Why You Shouldn't Deny Your Postpartum Depression
After having my wonderful son, I had such a huge burst of energy! I thought that nothing else could make me as happy as being able to hold him in my arms. I understood the long nights that were ahead of me, as well as the many ups and downs that I would possibly face, but NOTHING prepared me for postpartum depression.
One day, I woke up from my two hour nap (like two hour naps every other hour, starting at about 10 PM) feeling different. I knew that I would have to adjust to a lot of crying from the baby, as well as dirty diapers, breastfeeding and overall being close with my new baby.
I would talk to friends who had their baby before me, and it never failed that they would bring up "postpartum depression". I didn't want to believe it or claim it. I started researching about the depression, and sometimes, I would become numb because I knew that I was dealing with it. I loved my baby, although I was mentally and physically tired, I thought there was no one to run to. I would cry for absolutely no reason, be angry, irritable and feel hopeless at times.I wasn't eating like I usually did. Potato chips and a grape soda was all that I needed to make it through the day.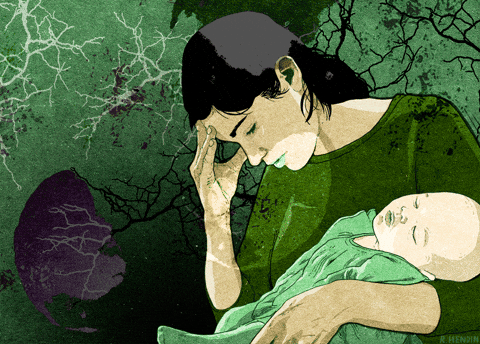 The way I kept myself up on the outside was just as worst as how I kept myself on the inside. Being at home sometimes made things worst. I had stopped caring about my skin and my overall health.I had a Cesarean Section, which left me in pain, and it also put a strain on my left leg which left me unable to walk properly for weeks. Y'all, my leg was still numb from the medicine used to numb the pain in the hospital.
Sometimes, I would think about ending my life. I know it's terrible to say, especially after giving birth to a beautiful child. I just wasn't feeling myself and I was not satisfied with my life. I had to think of ways to keep myself together and growth from my postpartum depression.
These were my steps to overcoming postpartum depression, and they may help you too.
Recognizing that I was in fact suffering from postpartum depression. When I would deny my feelings of having it, I was only pushing myself into a deeper hole because I definitely wouldn't be able to get myself help or even help myself.

Talk to your doctor. Your OBGYN should be more than glad to help you with your postpartum depression. In fact, on your very first appointment after your child, your OBGYN should ask how you are feeling and discuss postpartum depression with you.

Talk to family and friends. You don't have to tell them about your postpartum depression, but you should surround yourself with people who love you and talk to people who will bring positive feelings into your life during this stage.

Find activities or do things that will make you want to get up and be the amazing person you admired once again. Writing was my avenue from the hell I experienced.

Last but not least, look into a mirror, repeat to yourself that you are somebody and that you are a wonderful mother and you are learning every step of the way. Understand that millions of mothers have and are going through the same thing.
P.S. If you ever need anyone to talk to, I'm just a chat or an email away!